About The Show
The Moncton Boat and Sportsmen Show is a must-attend event for outdoor enthusiasts in the Moncton region. Featuring a wide array of products, this show offers a one-stop-shop for all your recreational boating and outdoor needs.
Whether you're an avid angler, a passionate hunter, or simply enjoy spending time in the great outdoors, this event has something for everyone. With its diverse exhibitors and interactive displays, the Moncton Boat and Sportsmen Show promises to be an unforgettable experience. Make sure to mark your calendars and join us at the Moncton Coliseum, March 22-24, 2024.
Date, Time & Location
Friday, March 22
10:00am – 9:00pm
Saturday, March 23
10:00am – 7:00pm
Sunday, March 24
10:00am – 5:00pm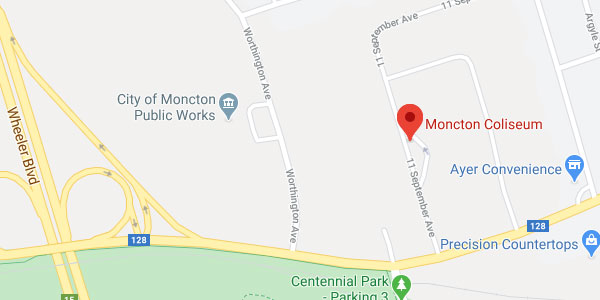 Moncton Coliseum Complex
377 Killam Drive, Unit 100
Moncton, New Brunswick
E1C 3T1
(506) 857-4100
2023 Exhibitor List
1st Moncton BPSA Scouting
Agence Pelchat (Sage, Redington, Rio, Fish Pond)
Albert County Hunter Association
Allain's Sales & Service
Anthony Dickson Line of Sight
Archery New Brunswick
Atlantic Salmon Federation
Atlantic Wildlife Institute
Audio Crew
Backroad Mapbooks
Barbara Lynns Gifts
Bender Over Bait Shop
Big Land Fishing Lodge
Billyard Insurance Group
Boutique Salmo Nature
Cabano Marine Et Sport
Canadian Wild Turkey Federation
Candock/Port Fredericton Marina
City of Miramichi
CMD SeaDek
Cold Water Docks
CR Yardworks & Equipment
Dead End Lures Inc.
Dieppe Fly Tying Club
Doiron Outfitters
East Coast Docks
East Coast Wilderness
Eastern Surplus Providers
Edrive Powersports
Epicure
Eskape Anglers
Extreme Torque Motorsports
Fair Haven Funeral Home and Cemetery
Fairway Insurance Services
Fisheries and Oceans Canada
Fishing with Damon
Garmin
Gaspé Fly Co.
Golden Oldies Snowmobile Club
Hampton Marine Flooring
Hooke and Paddle
Igloo Lake Lodge
Iron Wind Marine Inc
L.J. Patterson Sales & Service
Les Chalets Restigouche
Lobster Mafia Apparel
Long Lake Adventures Inc
Luc Morin Enterprises
Luc Morin Enterprises
Maritime Marine Supply
Marshland Auto Parts & Marine Dist. Ltd
Minnow Tackle Shop
Miramichi Salmon Association
MSE Marine
Natural Resources and Energy Dev
Nature Moncton
Navigator Publishing
NB Wildlife Trust Fund
New Brunswick All Terrain Federation
New Brunswick Invasive Species Council
New Brunswick Professional Outfitter Guide Association
New Brunswick Wildlife Federation
New Way Diesel
O.N. Sports
Ocean Yacht Sales
O'Leary Building Centre
Petitcodiac Watershed
Phil's Auto and Recreation
Pine Acres RV & Marine
PoolBoys Inc
Provincial Archives of New Brunswick
Quartermaster Marine
Rallye Marine
Regal / Ahrex Hooks
River's Edge Lemonade
Ruffed Grouse Society - Fredericton Chapter
Seamasters Services
SJM Albert
Star Creations
Stickylures
Stop Spraying NB
Strikeback Fishing
Taylor Ford
TD Finance
The Dock Outlet
The Fudge Ladies
Transport Canada - Office of Boating Safety
Transport Canada- NPP
Tri-County Ground Search & Rescue
UOMA Atlantic
Vision Fly Fishing Canada
Walker Brook Sports & Tackle
Watershed Fishing Apparel & Co.
Winter River Fly Shop